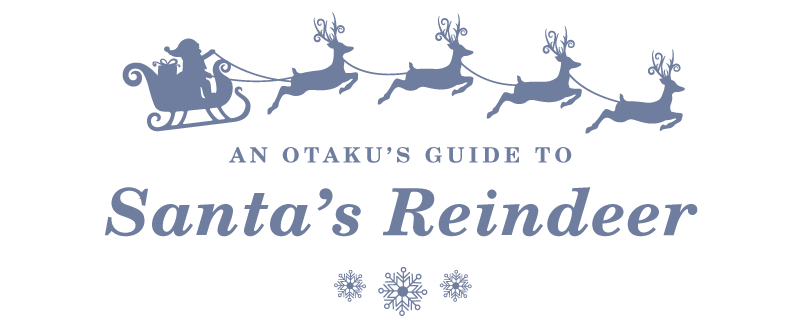 An Otaku's Guide to Santa's Reindeer
We're back to monthly updates: Expect updates for 'An Otaku's Guide to Santa's Reindeer' on the 25th of each month.
Dasher's and Vixen's route outlines have all been completed and are ready to go into the writing stage. Donder's, Cupid's and Comet's route outlines are underway. Dasher's route already has 4754words written and that's not even 20% of the route yet. Kisa is one magnificent word dragon! We're all super happy to have her on the team.
We still have a few routes that haven't got their own writer so to any budding writers feel free to apply by dropping us a quick email of introduction and writing samples. We're also looking to add another programmer to the team that works specifically on AOGTSR if anyone is interested in that.
Unfortunately, we've lost our background artist for this project and so are currently working with what we have BG wise. However, if anyone is feeling up to becoming our new background artist for An Otaku's guide to Santa's Reindeer then please do not hesitate to get in touch with us or to harass your very talented artist friends to contact us. Unfortunately, it's unpaid but it would be unfair to pay only one member of the team and it is a free game so we don't have any expectations of recouping funds spent on AOGTSR. Hopefully, there is a charitable unicorn out there that will be willing to assist us in making AOGTSR the best it can be!
Email: anomalis.games@gmail.com
Get An Otaku's Guide to Santa's Reindeer