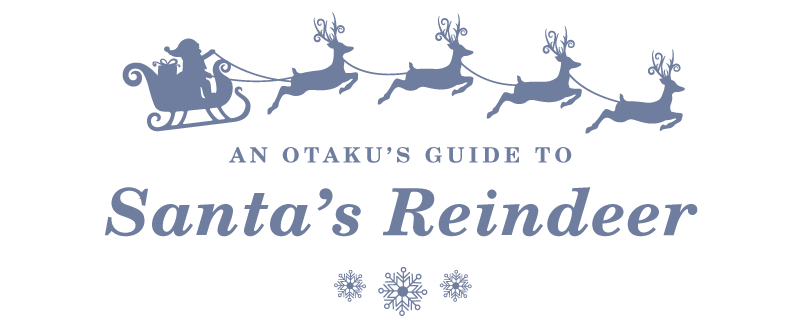 An Otaku's Guide to Santa's Reindeer
Christmas Message from Santa
---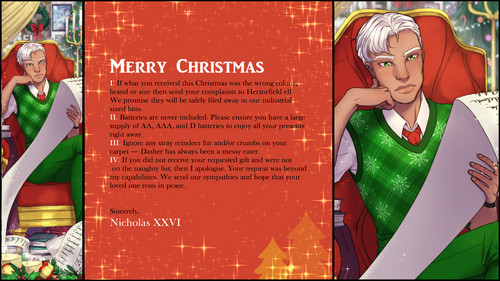 It's Christmas!!!!!!!
(or it almost is... depending on where you are in the world.)
From all of us at Anomalies we wish you Merry Christmas & Happy Holidays. We have had such an amazing time reading all your comments and feedback and we thanks you for all your support. So, be safe and eat something really tasty!
Anomalis
Huh???
Oh, you want to know a little about Santa. Can't just tease you with his design?
I suppose not.
The truth is we are pretty certain that you will not be seeing Santa in AOGTSR ... WAIT!!! >___<; before you get mad at us there is a very good reason for it, trust us. Just because he isn't in AOGTSR that doesn't mean the man in red... errr green isn't really really important to us.
I suppose we haven't exactly explained why we have this sprite design, especially since Santa ISN'T going to be in AOGTSR. That's really easy to explain actually, and for any of you die hard fans, you might already know that AOGTSR is actually a spin off game.
Information on the original game is probably floating around the internet somewhere, but for now we're going to keep quiet on the details and just let you enjoy Jake's amazing art. If you want to see some of the other festive cuties, then make sure to keep a look out for our special holiday messages on our tumblr page. There are more to come next year.
For now, we are dying to know, what do you think of Santa???

[rolls eyes]
Get An Otaku's Guide to Santa's Reindeer
Comments
Log in with itch.io to leave a comment.
I want that Santa to visit me...